Creative & Professional Logo Design Company in, Jeddah, Riyadh, Saudi Arabia 2018
---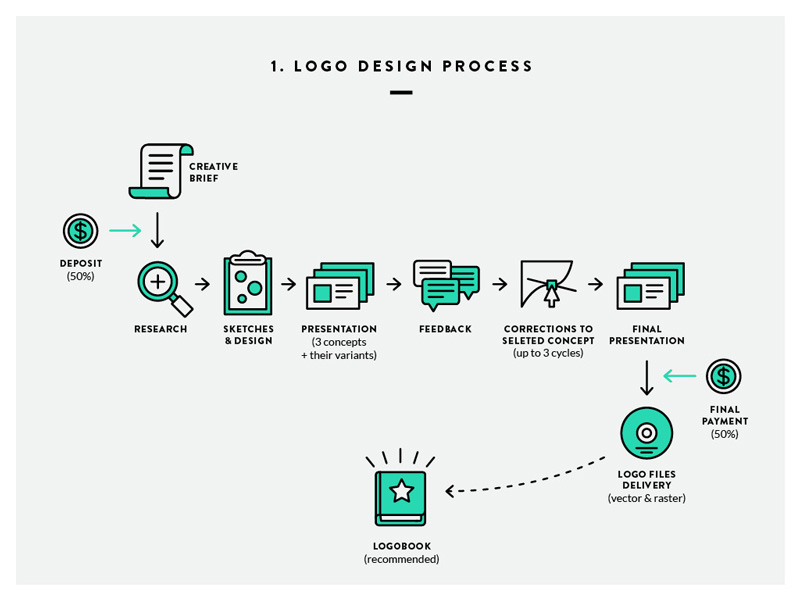 Image source: dribbble
"One Logo Communicate…Thousands of Ideas"
The logo, or brand is not just a graphic but it is the embodiment of an organization – of its area of work, it's ethos, it's core values and so on. Designing a logo is commonly believed to be one of the most important areas in graphic design and thus taken as the most difficult area to perfect.
A good logo is unique, and not subject to confusion with other logos among customers, is functional and can be used in many different contexts while retaining its integrity. A good logo should remain effective reproduced small or large, can work in "full-color", but also in two color presentation (black and white), spot color or halftone.
Why you need a logo?
Logo Speaks…….. Volumes
* Logo creates strong brand recognition and familiarity for a business. It makes people think of your service or product as soon as they sight it.
* Logos are meant to represent companies and foster recognition by consumers
* It conveys professionalism. It helps build trust.
---
you can get the finest quality logos in numerous styles like from services logo to technology logo, travel & hospitality logo to religious logos, automotive logo to education logos, healthcare logos to political logos, and industrial logos to much more. Feel free to get your free "logo design quote" today!
Satisfaction Guaranteed!
---
Logo Design Portfolio
Logo Design for Different industry
Recruitment Logo
Restaurant Logo
Retail Logo
Security Logo
Services Logo
Spa & Salon Logo
Sports Logo
Technology Logo
Travel & Hospitality Logo
Church & Religious Logo
Cleaning Services Logo
Communications Logo

Internet Logo
Landscaping Logo
Mortgage & RealEstate Logo
Music Logo
Pets & Animals Logo
Pharmaceutical & BioTech
Physical Training Logo
Politics Logo
Pool & Hot Tubs Logo
Automotive Logo
Aviation & Marine Logo
Business & Consulting Logo

Fashion & Apparel Logo
Finance Logo
Food & Beverages Logo
Furniture & Interior
Games Logo
Government & Military Logo
Healthcare Logo
Illustrative Logo
Industrial Logo
Insurance Logo
Accounting & Advisory Logo
Art & Photography Logo

Community & Foundations Logo
Computer & Networking Logo
Construction Logo
Cosmetics & Jewelery Logo
Dating Logo
Dental
Doctors/Physicians Logo
Education Logo
Entertainment & Media Logo
Events Logo
Attorney & Legal Logo
International Logos Logo